Curtain Cleaning Mistakes to Avoid: What Not to Do
When discussing a room's decor, curtains always play a major role. Curtains add value to any indoor decoration and are available in texture, colour, and pattern varieties. But the main problem people face with curtains is making cleaning mistakes. Curtains get dirty over time and need a complete cleanup. But one thing is for sure: you don't want to damage your favourite curtains with the wrong cleaning process. Right? So, in this blog, we will discuss the curtain cleaning mistakes to avoid. Let's start.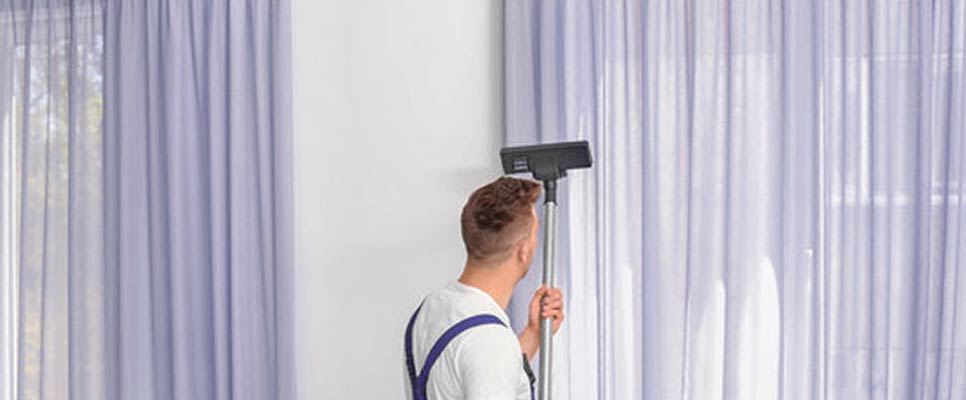 Common Curtain Cleaning Mistakes to Avoid 
Below are some curtain-cleaning mistakes that must be avoided to keep the curtains as they are.
1. Not following the cleaning instructions mentioned on the label
The cleaning instructions mentioned on the labels contain necessary information about the curtain's material, how to clean it, and the colour guarantee. But most people need to follow the labels before cleaning them. If you don't follow the instructions, you are causing harm to the material. Sometimes you may find discolourations in the curtains.
2. Cleaning incorrectly
Each curtain must be cleaned following a different cleaning process. It happens because of the fabric. Not every fabric can be handled using the same process. For example, some fabrics need dry cleaning, whereas machines can clean some. The wrong cleaning methods lead to damage and discolouration.
3. Cleaning without testing the cleaning solution
If you need more clarification about the chemical reaction of the cleaning solutions, it is important to test them first. At first, you can apply a small amount of the solution to a corner area of the curtain and wait to check for any discolouration or damage that may appear after some time or instantly. If there is no damage, you can proceed further.
4. Not removing the hanging hooks before cleaning
Cleaning curtains without removing the hanging hooks is a mistake people often make. Steel or plastic rings through which curtains are attached must be removed before cleaning. Detergent or machine washing may create rust on the hanging hooks, besides damaging them.
5. Don't over-dry the curtains
Overdrying is a prime reason behind wrinkles and shape loss in curtains. It is a thumb rule, especially for curtains made of materials like cotton or linen. The velvet, drape, or heavy fabrics also come under it. It is advisable to follow the manufacturer's instructions for curtain drying.
6. Never use bleach for curtain cleaning
Bleaching is a powerful method for removing stains and dirt. However, bleaching could never be a good idea for cleaning the curtains. If you don't want to harm the curtains by making the fabric brittle and with patches, you must avoid using bleach on the curtains.
7. Don't use hot water for curtain cleaning
Hot water is always considered a better option when deeply removing dust and grime. However, you should not use hot water when talking about cleaning curtains. High temperatures may harm the fabric, especially the linen of velvet fabrics. Instead of hot water, you can opt for lukewarm or normal.
8. Don't put the curtains into dryers
People consider putting the curtains in dryers to remove wrinkles and restore their shape. However, this may lead to fabric damage and sometimes more shrinkage. Rather, you can dry the curtains by hanging them in the open air and sunlight for some time.
9. Don't use harsh chemicals
While checking for what you mistake you never do for curtain cleaning, remember that strong chemicals like ammonia and chlorine are two common materials used for cleaning. But there are more suitable options for curtain cleaning. These strong chemicals can damage the fabric, and the colour will not change. Using the mild ones would be better.
10. Not ironing the curtains after cleaning
If you want to maintain the shape and look of the curtains, you must Iron them. People often skip this step, resulting in shrunken and unappealing curtains. Following the manufacturer's instructions, you can steam or iron the curtains.
11. Don't scrub harshly
Don't scrub the curtains harshly, as it causes damage to the fabric. Other than this, you can find discolouration and shrinkage. Handling the curtains gently is advisable to keep them fresh throughout the year.
Conclusion
Humans normally make mistakes. But those can be rectified too. While cleaning the curtains, you must remember curtain cleaning mistakes to avoid. Curtains don't need regular cleaning. But cleaning them correctly and seeing the results can give you satisfaction. Refrain from repeating the mistakes, or call Curtain cleaning experts who can do the work efficiently.